The pico+ ultrasonic sensors
are a compact series with M18 threaded sleeves and only 41 mm in housing length. In addition to the variants with an axial beam direction, there is also a housing variant with a 90° angled head and radial beam direction.
With four detection ranges from 20 mm to 1.3 m and three different output stages, this sensor family covers a wide range of applications.
Sensors with the Push-Pull output stage support SIO and IO link modes. Sensors with analogue output are optionally available with 4–20 mA current output or 0–10 V voltage output.
In SIO mode, sensors are configured using the microsonic teach-in procedure on pin 5.
The sensors are Listed to applicable UL Standards and requirements by UL for Canada and the US.
Two dual colour LEDs
For the pico+ sensor family
there are 2 output stages and 4 detection ranges available:
| | |
| --- | --- |
| | 1 Push-Pull switching output with pnp or npn switching technology |
| | 1 analogue output 4–20 mA or 0–10 V |
Sensors with switching output have three operating modes:
Single switching point
Two-way reflective barrier
Window mode
Teach-in of a single switching point
Place object to be detected (1) at the desired distance
Apply +UB to pin 5 for about 3 seconds
Then apply +UB to pin 5 again for about 1 seconds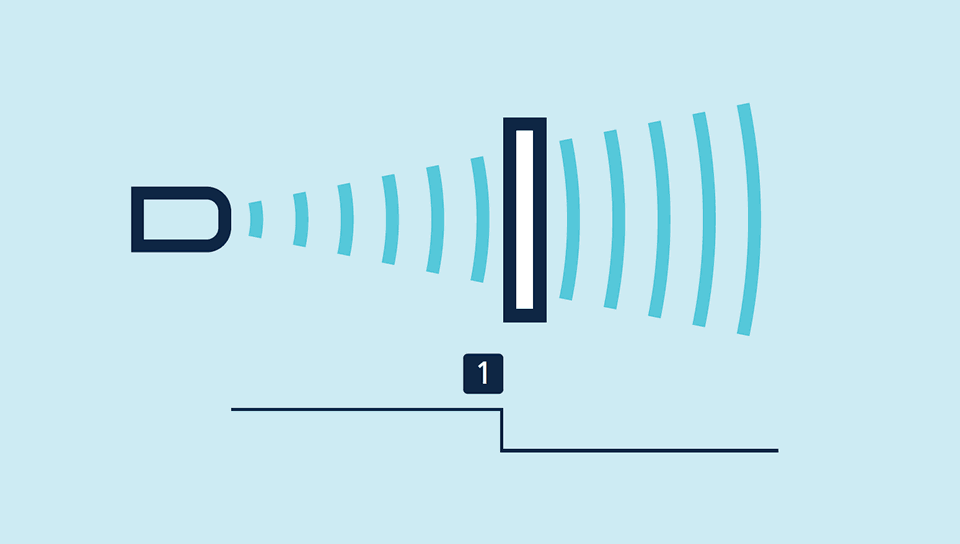 Teach-in of a switching point